That's exactly what Nancy Pelosi said about the so-called Occupy Wall Street protestors this week. "God bless them."
Ignoring the fact that Pelosi is seemingly allowed to invoke God's name and other members of the state cannot, let's focus on comparing a few videos so we can better understand the plight of the Occupy Wall Street movement.
This is a George Washington University student of law. He is mad because "the bank" took his parents' home. His message encapsulates one of the key sentiments of the protests in New York; protestors are blaming the banks and big corporations for the economic fallout and their own economic misfortunes.  You'll be shocked to hear why this student believes his parents should not have lost their home.
His parents are highly educated. I don't know their story, but a bank does not spontaneously take somebody's property without a reason. Many people lost their homes over the last four years, and it wasn't because they had a bachelor's degree, master's or doctorate, it's because a majority of them were irresponsible. Common sense can tell you not to spend money you don't have, which includes loans you cannot afford to pay back or homes in which you cannot afford to live. Unfortunately, financial responsibility cannot be taught from a book.
There are countless videos all over the Internet displaying the exuberant anger demonstrated by the protestors. Much can be said, much as already been said. But what are they protesting? Wealth. Greed. Corporations. Over-spending. Foreign aid. Why are they protesting? This picture sums it up: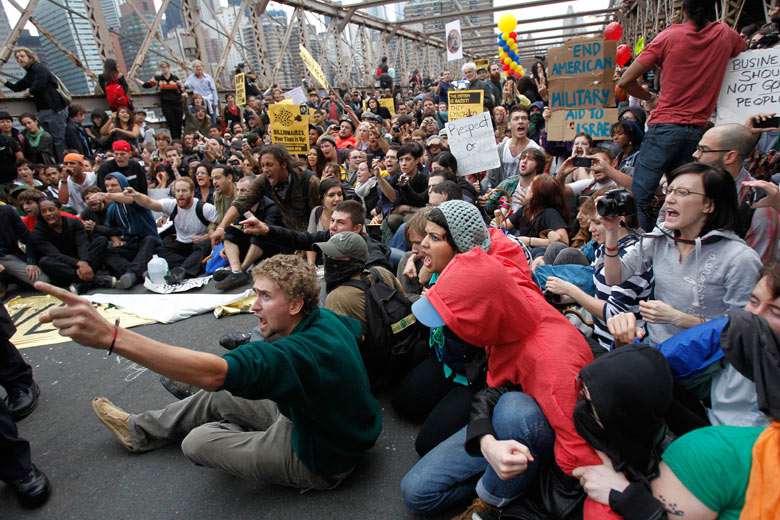 Pop quiz question: What's the difference between the group above, and the group below?
Answer: The group above is protesting on the sidewalk.
Those are Tea Party demonstrators. What did Nancy Pelosi say about them?
She calls the Tea Party participants "reckless," part of an "astroturf campaign", and accused their company of mixing with racists, secessionists, militias and neo-Nazis.
Without even comparing videos of the Occupy Wall Street movement and the Tea Party movement, we can already see the differences – and they're not what Pelosi would have you think.
Ideological differences aside, there are no videos of Tea Party participants getting arrested and shouting, "F*** you, man! We're peaceful!" The TP demonstrators have no need to yell those things: they were never breaking the law to begin with. The OWS demonstrators were crowding the Brooklyn Bridge. Under New York City traffic code, that is illegal (click here for all traffic violations). And resisting law enforcement is a big no-no wherever you go. All the protestors retain their rights to scream expletives and call names, but when they break the law, they must pay the consequences.
Because I promised a video comparison, here it is. This is what happened when a tea party group protested in Quincy, Illinois. President Obama was visiting the town that day and the movement held a large group to protest the over-spending practices and socialistic policies they believe he supports. Protestors were asked to move off the streets by riot police – who were padded to the gills – called into action by President Obama's own Secret Service.
And you know what they "yelled" at the top of their lungs? "America the Beautiful." Yes, Mrs. Pelosi, very militaristic indeed.
Further reading material: To be fair, I've included an account from "the other side" of what happened in Quincy that day. You have this journalistic account and the actual footage to make you the decision yourself of what actually happened. Here is the article: "Quincy Tea Party Protest Draws Police in Riot Gear During Obama Speech."